MSN, RN, NEA-BC, CPC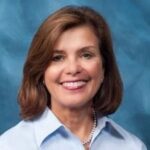 Colleen Smith is a visionary nurse executive with a strong background in strategic planning, leadership development, and succession planning and has a solid background in all operational aspects of acute care including patient flow, care coordination and facility design. She is a Wharton Nurse Fellow and holds certification in advanced nursing administration through the American Nurses Credentialing Center. Colleen is also a Certified Professional Coach through the College of Executive Coaching. She has assisted many clients in achieving their goals through optimizing relationships and exploring alternative approaches. She received both her BSN and MSN from the University of Connecticut School of Nursing. In 2011 Colleen was awarded Connecticut Hospital Association's Distinguished Service Award which recognizes individuals with extraordinary service to the healthcare field with significant contributions or achievements in governance, management or clinical services. As CNO of Middlesex Hospital in Connecticut for 16 years, Colleen led the organization to achieve its initial Magnet® designation in 2001 followed by two successful re-designations in 2005 and 2010. From 2007-2012 she served ANCC as a Magnet® Program Appraiser.
Colleen's experience includes oversight for Homecare, Hospice, and Palliative Care, and Disease Management Programs. Given her emphasis on creating a supportive workplace and an empowering culture, Colleen is keenly focused on building smart interdisciplinary teams to accomplish organizational objectives. She is a perceptive, decisive leader committed to preserving quality patient care in an era of spiraling fiscal constraint.