PhD, RN, NE-BC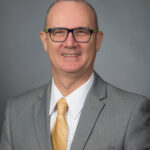 Eugene Waterval, PhD, RN, NE-BC is the Magnet Program Director at Orlando Health Orlando Regional Medical Center, Orlando FL. In this position he has been leading the first Magnet® Journey for this 800-bed tertiary trauma center. He chairs the Nursing Research and Evidence-Based Practice Council which includes leading and supporting several research and EBP projects. He also supports several nurses in Doctorate in Nursing Practice programs. As Corporate Magnet Program Manager, he successfully managed two consecutive Magnet® journeys for Orlando Health Arnold Palmer Hospital for Children, and Orlando Health Winnie Palmer Hospital for Mothers and Babies.
Additional accomplishments include the implementation of electronic nurse peer review, reviews, and edits for the organization's ANCC PTAP application, support for the professional governance structure, and implementation of a PeriOperative Ambulatory hospital level practice council. He developed and implemented an online nursing leadership program, and multiple ® workshops, live and interactive online modules. For several years he was adjunct faculty teaching a nurse preceptors course, which included international students.
In his role as Magnet Program Manager, he has advised organizations in the Netherlands, the United Kingdom, and Malaysia related to professional governance and Magnet® accreditation. He has published articles about simulation and teamwork; nursing leadership development related to Magnet® principles; and simulation-based annual competency review. He had multiple podium and poster presentations at national and international conferences such as at the Nursing & Midwifery Excellence Conference in the United Kingdom; ANCC Magnet Conference®; Sigma Theta Tau; and the Netherlands. The most recent podium presentation was from October 2021, at the ALSN virtual Conference: "The effect of acuity-based nurse staffing on nursing medication errors". Furthermore, he is a member of the American Nurses Association, Florida Nurses Association, Sigma Theta Tau International, the Florida Association of Nurse Executives, and he co-chairs the mentorship program for the University of Central Florida Alumni Association.