MHA, BSN, RN, LSSGB, CPHQ, NEA-BC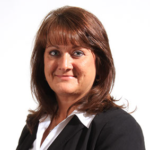 Jan Botts is an accomplished nurse executive with over 35 years in the healthcare industry. Her diversified nursing background, strong leadership skills and commitment to exemplary nursing practice, staff engagement and patient advocacy are demonstrated by a successful history of integrating practice, quality and clinical operations in support of performance excellence across the continuum of care. She has held leadership roles in a variety of clinical settings and modalities with expertise in integrated delivery systems and highly complex matrix reporting structures in both community and academic settings.
As ambulatory CNO for Mercyhealth in Wisconsin, Jan designed, implemented and optimized ambulatory shared governance while supporting the organization in achieving system Magnet® recognition in 2014. Her ability to structure, promote and enculturate interdisciplinary collaboration across the continuum of care, by incorporating over 40 specialty clinics in 26 communities located in 8 counties and 2 states, was recognized as an exemplar by the American Nurses Credentialing Center for the ability to be interdependent to multiple hospital campuses but highly coordinated and integrated in providing seamless care. She was also instrumental in expanding ambulatory shared governance during a large scale merger with another integrated healthcare system.
Jan's areas of expertise include leadership mentoring, ambulatory residency, recruitment and retention, professional practice model development, nursing strategic planning, and data analysis and outcome management. Her background also includes experience as a Malcomb Baldrige examiner at both the state and national levels as well as a strong background in quality & patient safety, care coordination and population health.
Jan holds a Masters Degree in Healthcare Administration (Ashford University) and a Bachelors Degree in Nursing (Northern Illinois University). She is an accomplished leader in performance improvement methodology, is a Lean Six Sigma Green Belt, holds certification as a Professional in Healthcare Quality (CPHQ) and is an active member of the National Association of Healthcare Quality (NAHQ). She is board certified as an Advanced Nurse Executive by the American Nurses Credentialing Center and is licensed in multiple states.