PhD, RN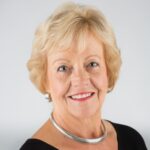 Kathleen Stolzenberger is a nationally recognized nurse leader who is widely respected for her expertise and influence in advancing professional nursing practice. Her career spans both academic and clinical appointments in progressive leadership roles. She served as President of the Connecticut League for Nursing for several years and was actively involved in forging statewide coalitions to advance nursing education.
Kathleen served as Director of Professional Practice and Magnet Project Director at Middlesex Hospital in Connecticut for over 14 years. She led the organization to its first Magnet® designation in 2001 when it became the 35th Magnet® facility in the country and the first Magnet hospital in Connecticut. In 2005 and again in 2008, she authored their Magnet® documents that were accepted on initial submission. Kathleen guided the organization through successful site visits that earned Middlesex Hospital its second and third Magnet® designations and is assisting them to prepare for a fourth designation in 2013.
Since 2006, Kathleen has consulted with over 50 hospitals to advance professional practice and strengthen the nursing work environment. She provides expert services to organizations applying for ANCC Magnet designation as well as to those invested in building the infrastructure for nursing research, peer review, and shared governance. Kathleen served as an ANCC Consultant from 2007 to 2012 before joining Nursing Consulting Partners. In that capacity, she assisted more than 30 hospitals in achieving Magnet® designation and guided dozens more in preparing for the Magnet® journey. Among these were freestanding specialty organizations, children's hospitals, and acute care facilities of every size and configuration. Many clients retain her services repeatedly for interim assessments, preparation for re-designation, and guidance in addressing document deficiencies for re-designation when identified by the ANCC Commission.
Kathleen's research interest is the practice of direct care nurses and the unit and organizational context in which it occurs. An educator at heart, she has a special talent for engaging staff nurses in understanding the real meaning and impact of the Magnet Model® in everyday clinical practice. Kathleen is adept at helping organizations develop and integrate professional practice models that hold relevance and meaning for practicing nurses. In 2005, she co-authored a chapter in Leadership Competencies for Clinical Managers: The Renaissance of Transformational Leadership by Barker, Sullivan, and Emery.
Kathleen has earned a reputation as a dynamic speaker and engaging presenter. She has presented at four of the most recent ANCC Magnet Conferences, including the 2012 pre-conference ANCC Research Symposium. She is a frequent keynote speaker during leadership retreats and Nurses Week activities and is the recipient of several leadership awards.