DPN, RN, NEA-BC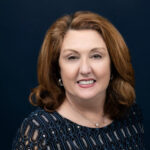 Patricia Maria Lavin, DPN, RN, NEA-BC is currently the Senior Director of Nursing Quality, Magnet® and Outcomes at the NYU Langone Orthopedic Hospital. This position oversees Quality, Magnet® designation, aspects of professional practice, community outreach programs, project management, regulatory and administrative facilitation of nursing research studies.
Prior to this Patricia served in many nursing leadership positions from nursing administration, to clinical case management and as the Magnet® Project Director for three successful Magnet® designations (Good Samaritan Medical Center, 2006 and the Hospital for Joint Diseases, 2012, NYU Langone Orthopedic, 2017). Additional clinical experience includes emergency room nursing, critical care, and public health nursing.
Patricia has a MS in Health Administration (New School for Social Research) and a BSN (Downstate University-SUNY). Patricia is currently a doctoral candidate at Case Western Reserve, Frances Payne Bolton (FPB) School of Nursing, Doctorate in Nursing Practice program (DNP).
Patricia is a member of Sigma Theta Tau International Honor Society of Nursing, the American Organization of Nurse Executives, New York Organization of Nurse Executives and Leaders, and the American Nurse Association. She has held past professional positions in the National Association of Orthopedic Nurses Evidence-Based Practice and Research Committee. In addition, Patricia is a peer reviewer for the Journal of Nursing Economics and spearheaded the development of the M2M (Montauk to Manhattan) Regional Alliance for Evidence-based Practice and Research in 2007 and was the chair until 2012. Patricia has presented at local, state and national conferences on the Magnet® journey, the role of a Magnet® Project Director, and evidence based nursing practice. Podium presentations at local, state and national conferences include her work in Magnet®, patient satisfaction, professional nursing practice, safe patient handling, and quality and safety initiatives. She has authored several manuscripts published in Nursing Management and the Journal of Orthopedic Nursing. Patricia and has co-authored a chapter on Teaching Evidence-Based Practice in Nursing, and What's Right in Healthcare: 365 Stories of Purpose, Worthwhile Work and Making a Difference: Studer Group, 2007.
Her professional work includes several nursing research studies and dozens of evidence based projects. She has appeared on cable television in a roundtable discussion on the value of evidence-based nursing practice and patient care (Telecare television presentation, 2008). Patricia is a strong advocate for the profession of nursing and patient-centered care built on a foundation of quality and safety.