PhD, RN, FAAN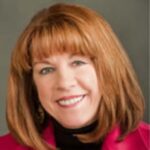 Vicki George is noted for her specialization with helping organizations achieve Magnet® status, shared governance models, peer review, strategic planning, clinical leadership, innovation and complex systems. She is a researcher, writer and speaker and has published two books on peer review, a shared governance toolkit and numerous peer reviewed journal articles on nursing.
Vicki has been a Chief Nurse Executive for more than 23 years and is a nationally and internationally known consultant with extensive experience on creating professional practice environments. She has a proven track record in managing wide-scale change through a robust change model and team approach.
George was CNO at Dartmouth-Hitchcock Medical Center, an academic medical center located in Lebanon, New Hampshire and lead them through Magnet® re-designation. As the SVP/CNO for Catholic Health Initiatives, a 68-facility health system based in Denver Colorado, she developed their first system-wide Shared Governance Structure. While the Regional VP/CNE for Aurora Health Care in Wisconsin, Dr. George led the first hospital system to Magnet® designation in 2001 and first five Magnet hospitals in Wisconsin.
Vicki began her long association with the Magnet® program as an appraiser and then shifted her focus to consulting with organizations to facilitate achievement of Magnet Recognition®. Vicki has assisted more than 90 organizations, both nationally and internationally, to obtain Magnet Recognition®.
Examples of Dr. George's international work includes collaboration with Dr. Tim Porter O'Grady on nursing and whole systems on shared governance in Brazil, Dr. Kodier and the leadership exchange in Japan, and Dr. Linda Aiken on the journey to nursing excellence in Russia. In addition she has consulted on professional practice environments in Seoul, Korea; Jeddah, Saudi Arabia; Beirut, Lebanon; Qatar; and Singapore.